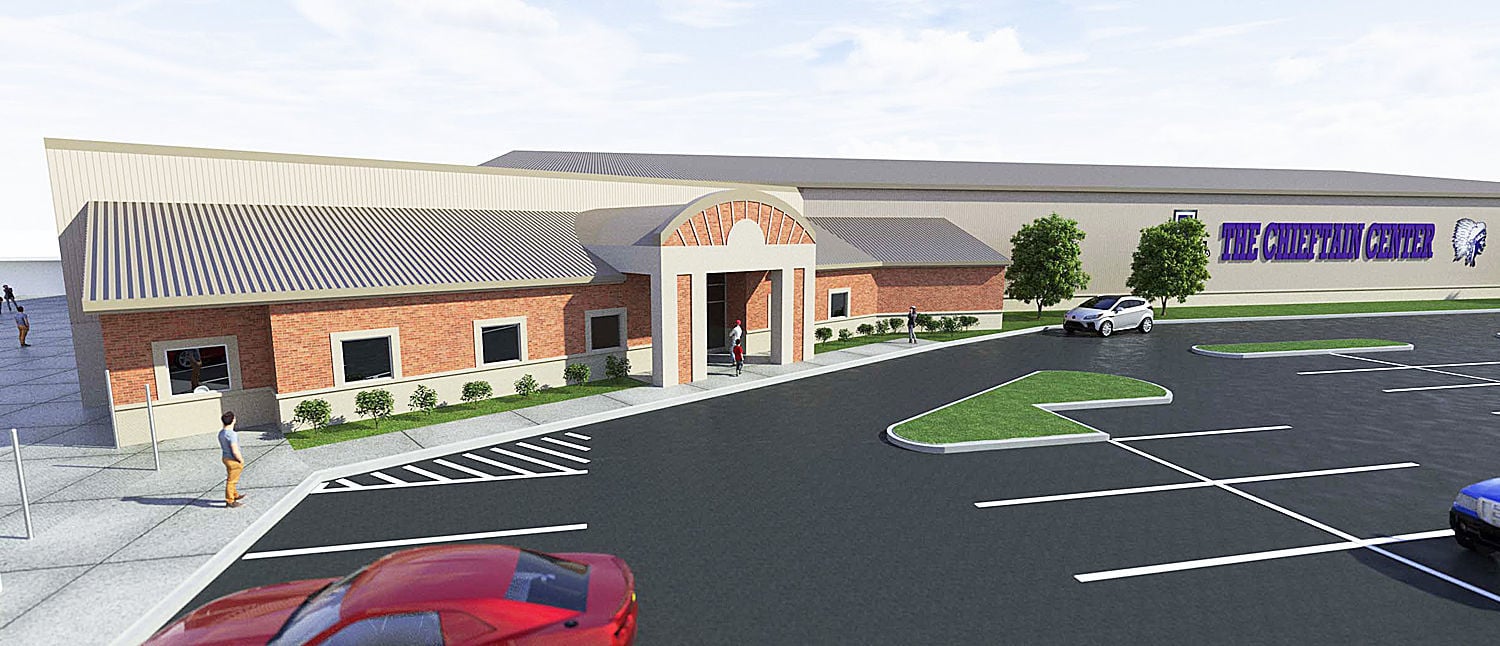 LOGAN — The Logan-Hocking School District (LHSD) and The Chieftain Athletic Boosters will join investment and development partners, and community members to celebrate the groundbreaking of The Chieftain Center — an 81,000-square-foot multi-purpose facility, at the Logan High School.
The groundbreaking ceremony is scheduled for 1:30 p.m. on Sunday, April 29.
The venue, for use by both students and the community, will have dedicated space for academic classes, athletic events, meetings, tournaments, workshops, trainings and numerous recreational events.
Many may remember the name "Field House" being connected to a similar project of the past, however, the name has been changed to Chieftain Center.
"We wanted to name the facility for a broad purpose, not just athletics," stated Chieftain Center Committee Chairman, Keith Myers. "Logan has a lot of pride (academics and athletics), so the name Chieftain Center was suggested and it just seemed to fit.
"When we first started the discussion of a field house, it was basically for athletics, being a Chieftain Athletic Booster project. Over time, we saw the need to include educational parts to this facility and now it is a joint effort," he added. "I'll never forget one of our first conversations with Mr. Bainter, he said — 'Folks, you need to think outside the box. This is only going to be done one time, and one time only.' Well, from there, we now have the plans you see today. This is going to be an amazing facility for our community."
Five years ago, LHSD Activities Director, Theresa Schultheiss, approached Myers to gauge his interest level in chairing a committee to look into the possibilities of a field-house for Logan High School.
"I anxiously began looking into facilities and developing a letter to some community members, to see if they would be interested in joining this committee. Initially, we had a good response, but many were eventually unable to give as much time as they felt was needed to help on the committee. Many of those original people, however, have been very helpful throughout the process, in a variety of ways," Myers continued.
According to Myers, the committee scheduled several on-site visits to high schools that have facilities similar to the school's vision. The original plan was about 35,000 square feet, compared to the current design of 81,000 square feet. It was very simple with two courts, a two lane walk track, weight room, and possibly a mezzanine.
"When the group started looking at the big picture, with great input from Mr. Bainter and the Board of Education, we realized this could become something much greater for the entire school district and community — not just athletics," Myers commented.
Chieftain Athletic Boosters co-treasurer, Kristi Brooks, will kick off the groundbreaking ceremony by welcoming all in attendance and then sharing her perspective of the journey of this project and the impact this development will have on the community.
"As I look back on the five years we have been working on the Chieftain Center Campaign, I have a profound sense of gratitude," stated Brooks. "I am grateful for the amazing support we have received from so many people and groups: the residents and businesses in our community; the Logan-Hocking School Board; the LHSD teachers and staff; the students and families; and the numerous individuals who planned, questioned, volunteered, donated, challenged and dreamed with us.
"It is this collective group that has made the Chieftain Center a reality! I am thrilled for what this facility will bring to our students, the LHSD, Hocking County residents, and all of Southeast Ohio — we have exciting times in our future," she added.
Main features of The Chieftain Center include: Four courts — basketball, volleyball, indoor tennis, a six lane regulation indoor track, high jump, pole vault, long jump, throwing area, turf area, weight room, Mezzanine viewing area, locker rooms, golf simulator area, collapsible batting cages, concession area, restrooms.
According to Phil Lash, project manager, The Paul Construction Company, Inc., "This is so much more than just an athletic building. We have also designed many academic spaces and meeting rooms into the floor plan of the center. Specifically, the broadcasting/technology room will give students a chance at real-world broadcasting and even announcing techniques.
"We have a total of five small-group classrooms that will be capable of handling many different educational programs." Lash added, "This facility will be, and should be, utilized by the community. One example is it will offer area seniors a place to walk and exercise year round, safe from the outside weather. What a benefit to the community!"
The Logan-Hocking School District is committed to establishing dedicated hours for community use and access to the center. While special events will restrict some community use, the overall concept is for there to be consistent community access available.
"This is an exciting time for the Logan-Hocking School District and the Logan-Hocking Community. The Chieftain Center Team has put together a great facility for everyone to enjoy from the academics, arts, technology, recreation and competitive athletic groups. This facility will serve many purposes and be the envy of many schools/communities," stated Myers.
The groundbreaking ceremony agenda includes student representatives from the district's elementary schools and middle school leading the Pledge of Allegiance, followed by members of the Logan Marching Chieftains performing a few favorite selections. Remarks will be given by Superintendent Monte Bainter, LHSD Treasurer, Paul Shaw, as well as by others closely involved with the project
To add to the excitement of the event, the LHS Junior Class Student Council generously decided to sponsor a Color Run the same day as the groundbreaking, to raise money for the Chieftain Center Campaign. This run will be approximately two miles long, with color stations spread out where race workers will cover participants with colorful powder.
On race day, registration will start at 1 p.m.; groundbreaking ceremony 1:30; run will begin immediately after groundbreaking. All are encouraged to pre-register now through April 25; registration cost is $15 and includes a t-shirt for those who pre-register.
"It has been a long process that is soon to be a reality," Schultheiss said. "What was once a request for a larger space for our student athletes almost five years ago, is now a dream come true for many. The opportunities the Chieftain Center will provide for our students, staff , community and visitors will be amazing. It has truly been a team effort."
She further stated, "It will serve as another LHSD facility with the purpose being to enhance what we currently offer. The district is looking to partner with as many groups as possible."
The Chieftain Athletic Boosters has the goal to raise a minimum of $2 million. The Boosters took full responsibility for raising all funds for the Chieftain Center. The project has been financed by a combination of generous businesses, individuals, and alumni who have committed to donations of varying levels.
Currently, the group has collected a total of $1,297,822 and are actively seeking pledges, donations, in-kind donations, grants. The 501c3 Booster organization can accept tax-deductible pledges up to five years and are in a position to take stocks, land and other securities.
"I can't even imagine the amount of time this committee has put into the project; the miles traveled and the emotional ups and downs, but this has truly been a great experience for us and will most definitely bring great things to LHSD and the community," Myers said.
The community is invited to attend and be a part of this much anticipated groundbreaking event — a result of five years of dedication and positive energy, combined with community support. Everyone is welcome to attend the unveiling of brand new architect renderings; speak to the committee and contractors; and simply witness the next step for this project becoming a reality.
It is anticipated the project completion date will be sometime in December 2018.
According to Lash, he plans on reaching out to utilize as much local involvement as possible from subcontractors. The goal is to keep as much of the work local as possible.
For more information on The Chieftain Center groundbreaking, or to download the Color Run registration form, visit the district's website, or Facebook page. Interested individuals may also stop by the Chieftain Athletic Office or Hawk's Nest to pick up a race form.
The Chieftain Athletic Boosters welcome opportunities to discuss the project, present to a business or group, or meet to address any questions. Contact Brooks (
kristi.brooks@frontier.com
or 740-503-0026) for more information.